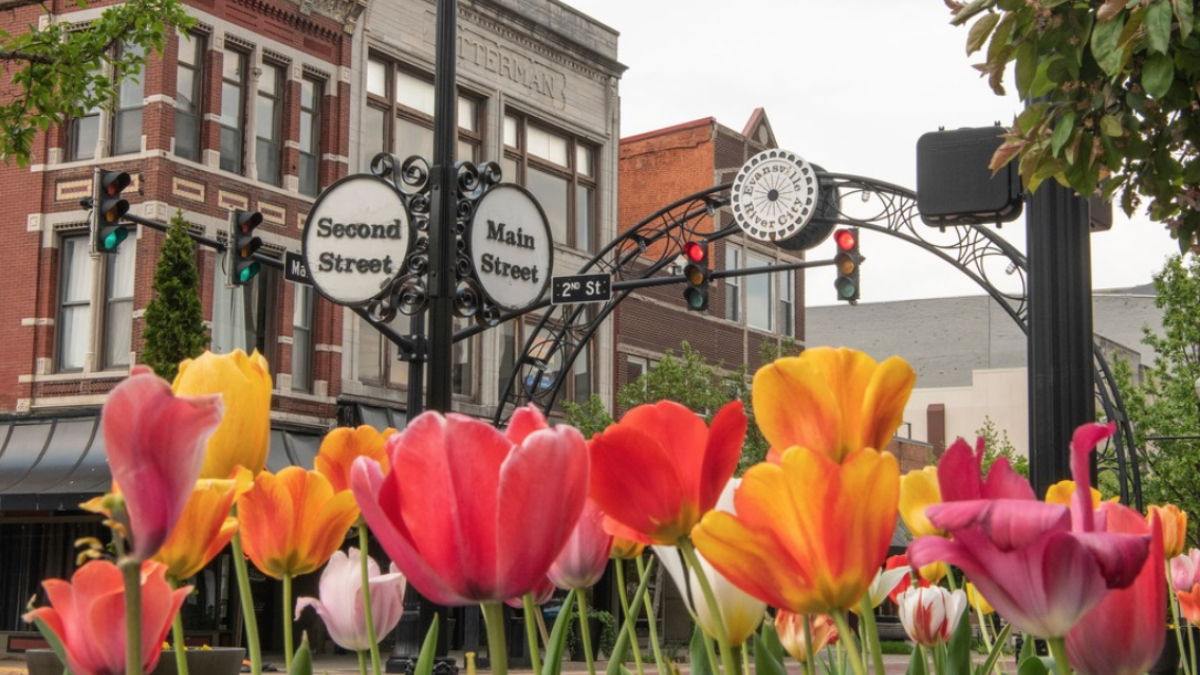 What is e is for everyone?
E is for everyone is a community-driven, cultural initiative. The intention is to connect all corners of our community, encourage everyone to contribute to our community to affect positive change, and celebrate the innovation and momentum of our community.
The goal is to create an active movement to enhance and inspire individuals to further engage with our community, shift the negative perceptions of Greater Evansville, and attract and retain businesses and talent to our region.
How did it start?
Over the course of 2013-2015, regional community and business leaders understood the need for a community brand and initiative that told Greater Evansville's story. After 3 years and 100's of meetings with diverse organizations, E launched in May 2017.
Nashville is Music City. Chicago is Windy City. Evansville could be River City. But what do we want our community to be known for? We want to be known for a sense of community, pride, diversity, and activity. We wanted to create a brand that is aspirational.
Who's behind it?
Bringing e is for everyone to life has been 100% a grassroots effort. The initiative grew out of community listening. More than 100 individuals and organizations contributed through surveys, focus groups, and discussions. From there, a small group of local marketing professionals came together to form a group called Thread. With the support and advice of several community leaders, this group of individuals initiated the logistics and creative work needed to get started.
How is the initiative funded?
E is for everyone is privately funded by local businesses and organizations. 100% of funds raised go directly to funding the initiative. With so many moving parts, donations support everything from t-shirts and pop-up banners to website maintenance and billboards.
How do I contribute financially to e is for everyone?
We are currently working to add a donation capability through the website. In the meantime, please email [email protected] if you are interested in contributing funds or in-kind donations.
What are the future goals for e is for everyone?
The main goal is to create a culture shift in our community to change the way we think and speak about Greater Evansville. We want to shift our focus to the positive attributes of our community.
We strive to uncover the challenges we face as a community, then connect as a community to address those challenges. Ideally, the e is for everyone initiative will become community-run over the course of the next few years.
What are Community Champions?
Community Champions are a group of self-appointed volunteers who live out the spirit of E every day. The role of a community champion is to positively promote our city in ways that help us to stand out. They focus on creating awareness and loyalty among the residents and the public through volunteerism, through their business or organization, or through their daily lives. Be sure to sign-up.
Can I volunteer with e is for everyone?
We love any and all volunteers. The easiest way to find out about volunteer opportunities is to sign up to be a Community Champion. If you want to volunteer for other community organizations, we're compiling a list of local non-profits.
How do I make my own E?
Anyone can make their own E — individuals, groups, businesses, etc. There are no rules and you can do no wrong. You don't need to be a graphic designer or spend any money. All that matters is that you create an E that reflects you, your community organization, your company, etc.
Once you create your E, share it on social media and be sure to tag us so we can share it too!
See examples of community-made e's here.
How do I get involved with e is for everyone?
Start by integrating E into your everyday life and determining what you as an individual can do to support the mission. Put a sticker on your car, wear your e-shirt to the gym, or use #eisforeveryone on your social media posts.
Then, consider how you can spread awareness to people close to you, like your neighbor, your coworkers, or your church group. Invite them to e is for everyone outreach events, volunteer together, or spend five minutes discussing the initiative at your next meeting.
And if you're still ready to do more, find ways to reach out to the general public. Engage businesses, non-profits, and other community groups to encourage an e is for everyone integration or give a presentation at an organization you're already involved in.
How can my company get involved?
You can start by making your own E - one that's unique to your business. Then, check out our integration toolkit. It has ideas for adding e is for everyone to your website, to your brand, or your product/service.
You can also create an E team at your company, which is a group of people that oversees your integration with the initiative and works together to bring the mission and values of E inside your business.
How does this impact the communities around Evansville?
This is a regional initiative that aims to connect all the communities in southwest Indiana. When we work together, we all thrive. If you live or work in Vanderburgh, Warrick, Gibson, or Posey County, we encourage you to learn more about e is for everyone. You can also share your events with us, use our free photo library, or ask about hosting an outreach event in your area.
How is the effectiveness of this initiative measured?
The public's awareness of e is for everyone and the perception of Greater Evansville is measured through community outreach surveys that result in a Net Promoter Score.