Aug 20
Old National Events Plaza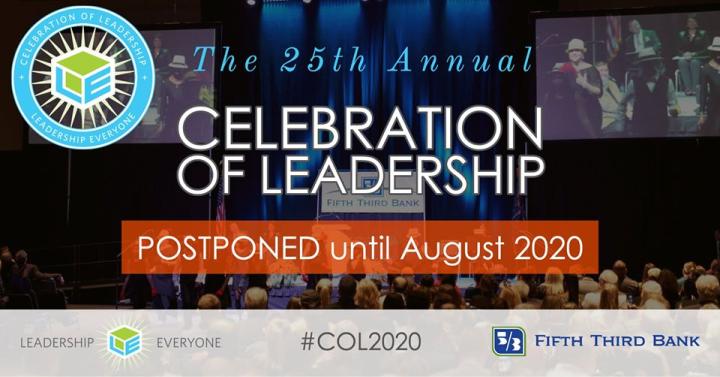 THIS EVENT HAS BEEN POSTPONED DUE TO CURRENT PUBLIC HEALTH ISSUES.

Join us for the 25th Annual Celebration of Leadership in August 2020 in the Exhibit Hall of the Old National Events Plaza!

4:00pm – Doors open in Exhibit Hall
4:15-5:15pm – Light hors d'oeuvre reception
5:30pm – Ceremony begins in Exhibit Hall

Celebration of Leadership is a remarkably diverse and inclusive annual event whereby Leadership Everyone publicly seeks out and honors individuals, projects or organizations who make significant, collaborative contributions that improve and transform our community. Celebration of Leadership recognizes examples of outstanding community and public service in the following categories: Arts; Community & Neighborhood; Education; Government, Public Service, & Environment; and Health & Social Services.
Leadership Everyone intends to demonstrate and celebrate the depth of our citizens' commitment to our community. Therefore, we offer a special thanks to anyone who takes the time to recognize and nominate our honorees. Without you, there is no celebration.
August 20, 2020
Starts at 05:30pm
Old National Events Plaza
715 Locust St.
Evansville, IN 47708
United States